Citizen Hearing Goes Live in Washington - Update
UK Regional Council Creates Alien Landing Plan



First Contact Planning ??

Far More Pragmatic Than You May Believe




First Contact - Glasgow Council sets out detailed alien encounter response

"As mankind continues to advance and head out into the stars we are undoubtedly going to attract the attention of whatever lifeforms are out there. I'm curious to know what provisions have been put in place for our inevitable encounter."


A recent FOIA request may have given us a glimmer of hope that some British regional authorities are actually examining one of the truly pressing issues of our current era. Now if I was writing this as one of the many news outlets that covered the discovery of the request, you'd assume there was a hint of disbelief or sarcasm in that last statement but there isn't.

Why? - Because assuming life doesn't exist elsewhere is these days along the lines of assuming we still live on the flat earth.
Read more...
Investigated by R.I.I.A. - Rare Alec Newald Interview - Video
Investigated by the Royal Institute of International Affairs

:

Alec Newald Interview



-

For in depth research on one particular aspect of Alec Newald's interactions with the Blue ET group related to the infamous Marconi deaths in the UK in the 1980s - check out the following link:

http://bit.ly/ETMarconiRadio
-


Alec Newald's situation is unique amongst those who have tangible contact with visiting intelligences in the contemporary era. Hailing from New Zealand he recalls a few strange incidents as a child - one of which was being given a tetrahedron-like artefact by a small being which transported him to a parallel world where he met other children. Many of these experiences became clearer to him in the years after his contact as an adult.




Reformatted with permission by http://exopolitics.org.uk
Read more...
Psychedelics, ETs and Visual Language - Event Video
Psychedelics, ETs and Visual Language - Conference Video
Nottingham AMMACH Event 2012 - David Griffin: This e-mail address is being protected from spam bots, you need JavaScript enabled to view it
Anyone who takes the time to study the complex and often bizarre nature of extraterrestrial intervention with humans on this planet cannot help but stumble across numerous examples of where the evolution of terrestrial knowledge was catalysed using a variety of methods by these various off-world groups. What is less well known is that an increasingly common aspect of this process interfaces directly at the level where consciousness becomes manifest - that of communication itself.

It appears we are at a cosmic cross-roads as a species - some sort of transition is due which could vastly alter the way we see ourselves and our place in the wider universe. The contact and abduction phenomenon now includes the tutoring of selected people in the structures of language itself - giving those individuals not just the ability to communicate ideas more effectively but also shifting the very nature of communication itself. This presentation aims to explore these novel experiences and ultimately points to a broadening of UFOlogical and exopolitical enquiry.

David Griffin also presented "Saucer School: Psychedelics and Extraterrestrial Language" in June 2012 at the Extraterrestrial Communication Conference in Liverpool. Video Link: https://www.youtube.com/watch?v=c-iR4Gy2W10&
Hacking UFOlogy - The Implications of UFOs for Life, the Universe, and Everything
Hacking UFOlogy - The Implications of UFOs for Life, the Universe, and Everything
DefCON Conference 2011 - Speaker: Richard Thiem
Read more...
MiB Plausible Deniability? Russian Leader Gives Disclosure Briefing to Media
Whilst some global media outlets have tried to spin the situation... on closer inspection, and unsuprisingly to those of us who keep an eye on this process, Medvedev appears to have been sincere in his off-camera comments.

On Friday, December 7, the current Russian Prime Minister and former President, Dmitry Medvedev, made some startling off-air comments to reporters while his microphone was still switched on. He was asked whether the President is given any secret files on extraterrestrials while in office. In his responses, Medvedev not only confided that extraterrestrials are visiting the Earth, but that some are actually living among us. He went even further to say that the Hollywood comedy, Men in Black, depicting a secret government agency monitoring extraterrestrials on Earth, has a factual basis to it.

Read more...
ET Intervention - Ancient Bio-Weapons and the Blue Diamond Affair
Latest Round-Table Discussion :
Project Camelot - ET Intervention - Ancient Bio-Weapons and the Blue Diamond Affair
For the live stream - this works out at 10pm in the UK and Europe. An archive version is available to Project Camelot members a few days after I think.
Newsletter Info on this Here: http://bit.ly/MarconiDiamond

This is a rare appearance from Alec who initiated the research into the Falklands War and the Marconi material that followed.
Gary's Decade Long Nightmare Ended by Home Secretary
Finally.... Gary McKinnon's Decade Long Threat of US Jail is Over

RT Report on Home Secretary's Final Extradition Decision - October 2012


"My son has now been under arrest for longer than any British citizen ever has. He hasn't raped anyone, he hasn't murdered anyone, so can't understand how this can be happening to him, as no matter how much anyone may choose to exaggerate his crime, the fact is that his crime was tapping on a keyboard in his bedroom in north London in search of information on aliens from outer space..."


Janis Sharp - hardcore campaigner and mother of Gary.

:: Full Mckinnon archive

here

::
Janis Sharp has said she is "overwhelmed and incredibly happy" after the announcement that her son, British computer hacker Gary McKinnon, will not be extradited to the US.
Mr McKinnon, 46, who admits accessing US government computers but claims he was looking for evidence of UFOs, has been fighting extradition since 2002. His mother told a press conference that Mr McKinnon "couldn't speak" when he heard the news. Mr McKinnon, from Wood Green, north London, who has been diagnosed with Asperger's syndrome, a form of autism, faced 60 years in jail if convicted in the US.
Read more...
Giant Crop Formation Mirrors UK Logo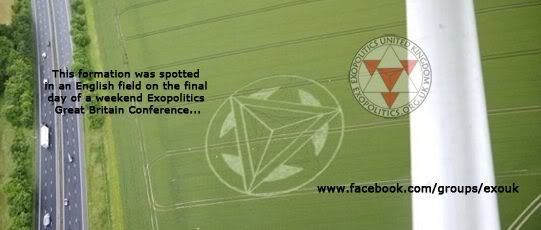 Huge Formation that appeared in Southern England on Last day of 2012 Exopolitics Conference
Identical to logo used by the UK site and network since 2005...
Read more...
Radio Interview Notes - Marconi Deaths and Falklands War
Interview Notes: The Bizarre British Marconi Deaths, ET bases and the 1980s Falklands Conflict
A Box Set of all conference speakers where the first airing of the above talk was given is under production by Anthony at Exopolitics Leeds/GB. The full 2 years worth of research however is available on a full length DVD with previously unseen media, documents and several conclusion avenues the core research group considered but I have had little time to expand on during any of the presentations and interviews to date.

For a professionally produced DVD - please This e-mail address is being protected from spam bots, you need JavaScript enabled to view it or use the site contact form.

As this topic has attracted a good degree of attention from the wider 'alternative' knowledge community -

below is a highly condensed page of supporting images, documents and resource links

to aid both interviewer and those listening.

In addition the UK AMMACH organisation and Exopolitics UK have now published their longer but more informal discussion on the area which is in 4 parts and can be seen starting on youtube here.
Read more...
Above Your Heads - Black Ops, Star Wars Or ET?
!-Updated-! British researcher Gary McKinnon is currently due to be extradited to the USA to face a long jail sentence for gaining entry to several major US military networks. His main reason for doing so was to find out once and for all if NASA were indeed airbrushing anomalous objects from stock photos and also to locate proof of free energy systems that are linked to the ET/UFO phenomena because in the UK, in the 21st century "we have the elderly dying of cold because they cannot afford to keep the heating on".

Read on for more. This issue is discussed as part of a couple of recent video presentations.

See last part of Higher Than the H-Bomb and the short video session at the 1400 attended Exopolitcs Europe Summit.here [minus a few failed videos due to tech errors].
Read more...
Ninth Batch of MoD National Archives Released



The British Ministry of Defence have released a further 6785 pages of UFO-related material, following on from previous releases from the UK National Archive dating back to May 2008.

The ninth series, the first since August of last year, contains information about UFO policy, Parliamentary Questions, media issues, public correspondence and UFO sighting reports.

Note: Policy documents again hint at the fact that regular government structures know little, if anything, of the ET and UFO issue. One recent exception appears to have been Mrs Thatcher and a couple of her defence ministers from the early 1980s era. For information backing up this claim - see the new presentation by Exopolitics UK founder David Griffin due for its first airing at the Liverpool Exopolitics Conference in August 2012.
Read more...
Authentic ET Craft Demonstrations To Increase Between 2012-2015
Authentic ET Craft Demonstrations To Increase Between 2012-2015 : UFO Witness and Contact Document Released.


In the wider 'alternative' knowledge community - the channeling of apparently distinct, sentient entities by individuals that enter a slight trance-like state is often associated with attention seeking hoaxers or plainly deluded kooks. However - this non-local form of communication and contact has a few individuals who undoubtedly appear to have the ability to access novel information which often includes significant changes in personality and in some respects elicits a noticeably increased ability to conceptualise more complex spaces.

One famous channeler from recent decades in J Z knight who channels Ramtha and is generally accepted to be authentic but currently the growing attendances at events staged by Daryyl Anka and his ET other Bashar attest to this phenomena gaining more acceptance as a valid method of communication. Having watched Anka's ability to flawlessly enter the mindset of this being improve over the years [obtain sessions from the late 90s and compare them to his vast array of current video public meetings to see what I mean] it's obvious that whilst this is an ability that is for a selected few, it's also one that builds in efficiency in some sort of feedback loop between channeler and non-local entity. Some would suggest that this practice is like anything you continued to perfect - ie: some form of deluded ego-trip. However - I challenge anyone skeptical of this previously fringe field to provide the light-speed intelligence and off-world humour of Bashar given double the years Daryyl Anka has been displaying this engaging talent.
Read more...
Berwyn Mountain UFO and UK Disinformation Suspects
Berwyn Mountain UFO and UK Disinformation Suspects - Wizards of MoD!
What's behind the UFO curtain at the end of the yellow brick road??
Read more...
Interview Douglas Dietrich - Roswell to The Antartic
In depth interview with former D.o.D. research librarian Douglas Dietrich. Douglas was exposed to highly secretive documentation as part of his role to catalogue and destroy items at the Presidio Military Base in San-Francisco. This base was essentially the venue for the creation and hosting of the United Nations until it moved to New York, where it remains today.

This 3 hour discussion was divided into 3 sections:

A new take on the 'UFO crash' at Roswell in 1947 and it's role in the post-war era.

The fate of the Axis powers, British and US roles in Antartica and 'Operation High Jump'

Roots of narco-trafficking as a black-budget source, Opium Wars, Tesla and Yugoslavia

Although some of his perspectives and historical revisionism may appear suspect to some, there is no doubting that Mr Dietrich has an unparalleled ability to process a given context highly fluidly with the ability to weave connections seamlessly between them. If you follow-up this discussion with some of your own research, you'll find more often than not that his ideas are valid. Where possible we attempted to clarify what was found in the documents at Presidio and what elements were from his additional investigation or experience of the various points made.

Video Version available: http://www.youtube.com/watch?v=yI9EkqZqTVU
Read more...
Did President Eisenhower Meet with ETs?
Eisenhower - Last Free President of the USA?

Video Testimony of Former "Mythical" Meeting of US President and Extra-Terrestrials

For several decades now a strong rumour has existed on the exopolitical research circuit that in the historical fallout from World War 2 and more importantly the first major tests at the Trinity ground zero site of nuclear weapons, one US President met with advanced entities in a hushed-up form of what we can call 'cosmic' diplomacy.

Dwight D Eisenhower may well have been one of the last global leaders who had a degree of freedom from what we are now aware of as 'above-government' groups and cabals. Certainly every president since has been covertly pressured with significant control measures from these trans-national syndicates - the one exception being John F Kennedy - who was fully aware of the UFO significance and this, along with other issues he aimed to change, resulted in his assassination by these previously mentioned covert groups.
Read more...
Battle of LA related to Japanese Technology
Was the Astonishing Battle of LA incident related to Un-Disclosed Japanese Technology?

Over several hours in February 1942 the Californian sky lit up from numerous roving searchlights and literally hundred's of exploding shells fired from anti-aircraft artillery. It was only three month since the US joined WW2 in the aftermath of Pearl Harbour and Roosevelt had agreed to begin mass internment of domestic Japanese citizens due to sweeping political war paranoia.

Until recently the theories as to just what the object was ranged from a lost weather balloon, an advanced Nazi saucer to a "true" ET craft of some kind. Whatever it was - powerful AA barages failed to bring down or even damage the object - although there were in fact injuries on the ground due to the sheer volume falling artillery debris and flak. Could there be another option which would explain why little has been concluded on this infamous incident in the post-war era?

Douglas Dietrich found himself in a somewhat strange postion after applying for a civillian job in a military base.
Read more...
UK TV Demonstrates Decline of Mandatory Skeptics



UK Daytime TV Show Demonstrates Why Formats Are Shifting Perspective

The UKs most popular daytime TV program decided to allocate a whole 10 minutes for an issue which needs several hours to even scratch the surface of - The ET Contact and UFO issue. Despite the time constraints - something more was demonstrated - insofar as the invited 'rational' academic failed to make any significant headway in attracting interest for his views.

Present for the session were UK female contactee and speaker at the 2011 Leeds Exopolitics UK conference Brigitte Barclay. Police detective Gary Heseltine and Professor from Goldsmith's College in the "Anomalistic Psychology Research Unit" - Chris French.

In recent years there's been a notable shift in the format of both mainstream treatment of the issue and also the more specialised documentary style programs such as UFO-Hunters made for the History Channel.
Read more...
Ufo's and Aliens Contact 2012 Full Documentary



The 2012 year is seen as a culmination of many things, including unfortunately both New Age and 'conspiracy' style disinformation. This recentfull length video provides a good introduction to the wider issues that have been discussed with regards the ET reality in the post-war period.

Although it's vital to be aware of both government and what we can call 'above'-government group agendas, it's important to keep a core focus on the central theme of the impending contact scenario and not get too lost in the whole notion that the human species are being scammed somehow. The footage does fall a little too much on this area as well as playing down the vital idea that space weaponisation is high of the agenda of terrestrial power structures.

Some excellent points by historian Richard Dolan at the start worth paying significant attention to.
McKinnon told of the possibility of a British trial
McKinnon told of the possibility of a British trial

Bizarrely - one of the chants by supporters at regular "no extradition" demonstrations around London for Gary McKinnon was "UK TRIAL or NO TRIAL!" - we could have saved a decade of legal battles and pressure on gary and his family by accepting that the UK was indeed the best place for the case - and all the macho American posturing should be saved for the "true" threats to security that we're told exist out there every day.

For a complete document and media archive on the McKinnon case, see the following link: Gary McKinnon

His family feared that he would be sent to the United States after an official review found that extradition arrangements were operating fairly.

On Tuesday, however, Dominic Grieve, the Attorney General, said the review carried out by retired judge Sir Scott Baker offered "guidelines only".
Read more...